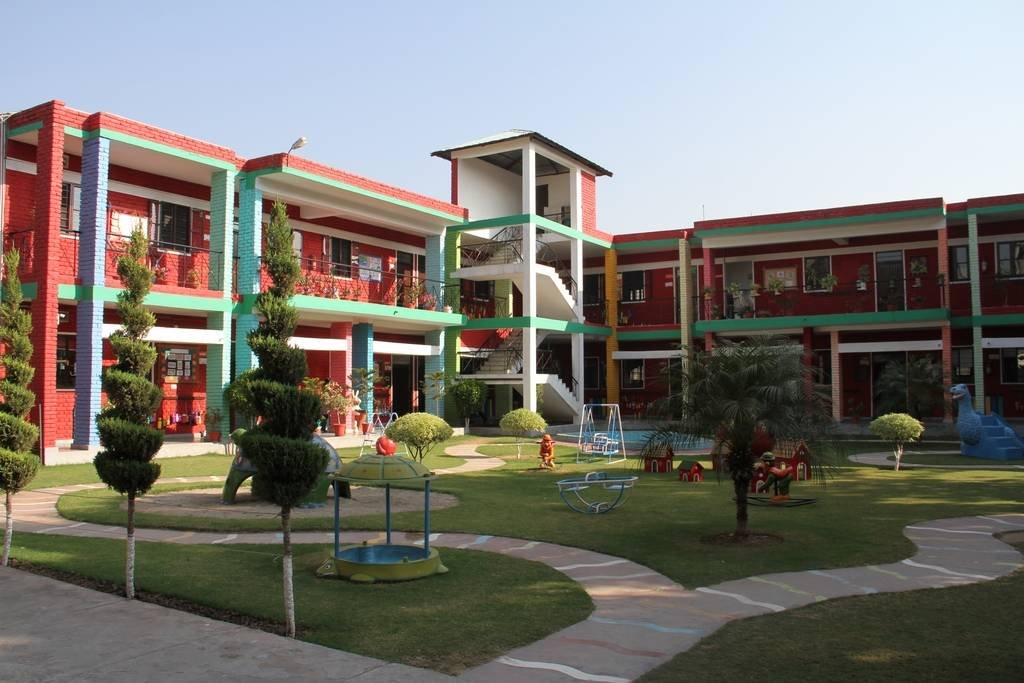 KINDERGARTEN AT ST. SOLDIER'S
A home away from home, where tiny tots learn to engage with the world in a safe and pleasant environment. Beautiful environment with tall trees landscaped playgrounds, colorful playing areas, and amenities such as an outdoor splash pool, skating rink sandpit, appealing play stations, and an open-air theater provide stimulation and unlimited fun!
The multi-colored school building is a fantasy world where motherly teachers, supportive staff, and endless arrays of child-friendly learning equipment make learning meaningful, interactive, recreational, and engaging. The child is an active participant in the learning process and learns to love education through a pedagogy comprising storytelling, role play, rhymes, and activities.
"If a child cannot learn the way we teach, we should teach the way they learn."
EARLY LEARNING PROGRAMME
Our academic program for pre-school students builds thinking and problem-solving skills in children. The method used and the activity-based learning have increased creativity, attention span, and analyzing abilities for our preschoolers significantly.
EDU-Sports
Pre—Primary School (Nursery to Class III)
Structured, on ground lesson plan executed with appropriate props ensures the holistic development.
Fundamental skill learning through a structured curriculum includes gross motor skills, body management skills, space awareness skills, manipulative and non-manipulative skills.
The Nurtured Heart Approach is a relationship-focused method founded strategically for helping children build their Inner Wealth and use their intensity in successful ways. It has become a powerful way of awakening the inherent greatness in all children while facilitating parenting and classroom success.
It has a proven impact on every child. They have shown the Nurtured Heart Approach to create transformative changes in children.
Traditional approaches often fall short of promoting the Inner Wealth essential for children to build successful relationships. This method has helped thousands of families, educators, and child advocates to channel child's intensity in beautifully creative and constructive ways — helping children achieve new emotional portfolios of confidence and enduring levels of competency.
The Benefits of Nurtured Heart Approach
Understand the unique dynamics of a child
Shifts a child towards using his/her intensity in successful ways
Create a deeper sense of success & Inner Wealth for the child
Build a family/school culture of authentic connection & trust
Improve performance – from test scores to chores.
End the punitive cycle that reinforces negative behavior
Live the "Energy" of joy and success as your new reality